Join me on the air, Saturday from 10 to 11AM and 8 to 11 PM PT, one fast hour in the morning and three fun hours on Saturday night, on CRN, on
CRNtalk.com
CRN 1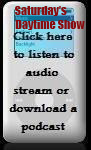 Saturday Day Show
Guest:
Adam Summers, of The Reason Institute
on his
recently published report
-- How to Fix California's Pension Crisis. He'll explain the problem, the history, and the consequences, and how to solve it.
John Lott who missed being with us last week, will be here next Saturday, June 26th.
We'll talk about the third release of his ground breaking book, More Guns, Less Crime, what's new in the book, and what are the latest most significant developments across the country, in gun laws and rights.
On Moonlighting with Martha, at 8 to 11 pm, PT,
Hot topics include:
* The court ordered vote system which gave only Hispanics 6 votes instead of 1 vote per person
, and that elected a Hispanic to the City Council in Port Chester, NY,
may be expanded to other cities
. Does ethnicity trump principles and values of a candidate? Reverse discrimination? Does this qualify in a Republic with equal protection by the rule of law for every individual person?
*Congress bet on Firms they oversaw,, and won big.
Did they serve the voters, or themselves and their "donors"? Legal, yes, morally and ethically OK? We'll ask Jim Babka on this and other issues he covers concerning the clever devils and their actions in DC.
My Guests:
Jim Babka, President of Downsize DC
, on some of the issues they are covering through their membership and on their website, including these latest posts:
* Former FEC Commissioners Oppose DISCLOSE Act
In an article titled, "Chuck Schumer vs. Free Speech," these former campaign finance law commissioners explain how, "The 'Disclose' Act would make election law even more incomprehensible and subject to selective enforcement for political gain."
* Campaign Finance Laws: Congress Exempts the NRA and AARP from the DISCLOSE Act Your freedoms of speech, press, and association will be burdened by the DISCLOSE Act, while the NRA and AARP will get a free ride.
* The Healthcare Fraud: You Must Remove the Sanction of the Victim Richard Nixon once infamously claimed that "If the president does it, it's not a crime." He was wrong. If it would be a crime for you to do something, then it's also a crime for the politicians to do it, no matter how much they may think otherwise.
Anthony Pignataro of CalWatchDog.com on his recent report on the long dark shadow of the CA High Speed Rail Project.
He reports on how the project will crush landowners, and the explosive increase in projected costs to the taxpayers, closer to $81 Billion. People will lose their farms, homes and businesses, and the taxpayers will lose their shirts. For what? The plot thickens. Tune in for an in-depth discussion with Anthony Pignataro.
The lines are open. I hope you put us on your calendar, tune in, give us a call, and join us for hot talk radio, Saturday at 10 to 11AM PT, and 8 to 11PM PT, one fast hour in the morning and three fun hours on Saturday night, on
CRN 1
CRN Digital Talk Radio is now available in High Definition
audio! Listen to CRN on your local cable or satellite provider, local radio affiliate, mobile device or at
www.CRNTalk.com!
To see where CRN is available in your area or how you can listen to CRN
click here.