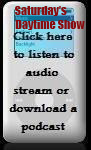 Join me on the air, Saturday from 10 to 11AM and 8 to 11 PM PT, one fast hour in the morning and three fun hours on Saturday night, on CRN, on
CRNtalk.com
CRN 1
Call in number: 1-800-336-2225
On the program, Bill Hunt, a 22 year year veteran of the Orange County Sheriff's Dept in CA, he stood up of for his values and his chosen profession, law enforcement, administration of former Sheriff Michael S. Carona in 2006. That decision cost him his career.
Now he's running for Orange County Sheriff, against the incumbent, Sheriff Sandra Hutchens, who fits the bill for bureaucrat, experienced poll, insider politician, who would like to make OC more like LA, restrictions on gun rights and integrity of service.
On Moonlighting with Martha, John Seiler of
Calwatchdog.com
on the Greek fable of bankrupt dysfunctional California, and its stooge legislators, who work desperately to make things worse.
Tony Bushala, founder, publisher, and fellow blogger of
Friends for Fullerton's Future
Blog, on the power of blogging to start, fuel and fan brush-fires for limited government. Tony and his merry band of fellow FFFF Bloggers crack me up, with their witty, well researched posts, all while learning about and fighting back against corruption, deceit, and abuse of power in their communities. The sleuthing the blogger do has produced some fantastic reporting on local candidates backed by the political machines and public employee unions.
The lines are open. I hope you put us on your calendar, tune in, give us a call, and join us for hot talk radio, Saturday at 10 to 11AM PT, and 8 to 11PM PT, one fast hour in the morning and three fun hours on Saturday night, on
CRN 1
CRN Digital Talk Radio is now available in High Definition
audio! Listen to CRN on your local cable or satellite provider, local radio affiliate, mobile device or at
www.CRNTalk.com!
To see where CRN is available in your area or how you can listen to CRN
click here.