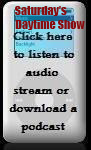 Join me on the air, Saturday from 10 to 11AM and 8 to 11 PM PT, one fast hour in the morning and three fun hours on Saturday night, on CRN, on
CRNtalk.com
CRN 1
Call in number: 1-800-336-2225
This Saturday, I broadcast live from the
M.O.R.R. Conference on Redevelopment
, concerning Government abuse of eminent domain, and abuse of individual property rights.
I'll interview
Scott Bullock
, Senior Attorney for the Institute for Justice in Washington D.C., who is the Keynote Speaker, and Timothy Sandefur of
Pacific Legal Foundation
, Principal Attorney, Pacific Legal Foundation, Sacramento, Author of the book "Cornerstone of Liberty: Property Rights in 21st-Century America," and John Eastman-former Dean of the Law School, Chapman University, and Candidate for California Attorney Gerneral. Former clerk, Justice Clarance Thomas. Dr. Eastman successfully stopped the Long Beach redevelopment agency "condemnation and taking" of the Filipino Baptist Fellowship Church in Long Beach, CA.
Saturday night, on Moonlighting, my special guest is Piedad Ayala, founder and member of
The Water for All
, a coalition of farmers, growers, Ag Industry business owners, their employees, and farm workers, all battling together.
They are fighting against Secretary of the Interior, Ken Salazar and the EPA, and particularly Nancy Pelosi, and Democrat Congressional Reps from CA, Jim Costa, Dennis Cardoza, and Grace Napolitano.
Ayala is a passionate political activist who has realized the American Dream. When he speaks with boldness, to groups, in English or in Spanish, to Latinos, or non Hispanics, and when he speaks, he stirs hearts and minds and inspires courage, and conviction.
He is dedicated to doing all he can, to spread the message to all, including fellow Latino voters who traditionally vote Democrat when what they want is embodied in the principles and values supported by Conservative Republicans.
But the Immigration issue is a hot potato and the dissonance and heated discourse around the recent passage of Arizona's immigration law have raised steep hurdles. We'll talk about what we've got going on right, where have we been making inroads, and how does this issue and the politics surrounding it bode for upcoming election results.
Jack Dean joins me to talk about the
Pension Tsunami
hitting States across the country, and particularly hard in California.
The lines are open. I hope you put us on your calendar, tune in, give us a call, and join us for hot talk radio, Saturday at 10 to 11AM PT, and 8 to 11PM PT, one fast hour in the morning and three fun hours on Saturday night, on
CRN 1
CRN Digital Talk Radio is now available in High Definition
audio! Listen to CRN on your local cable or satellite provider, local radio affiliate, mobile device or at
www.CRNTalk.com!
To see where CRN is available in your area or how you can listen to CRN
click here.